Dzięki firmie CodiLime mogłem dziś uczestniczyć w spotkaniu poświęconym optymalizacji aplikacji uruchomionych w przeglądarce internetowej.
Oficjalny profil spotkanie dostępny na Meetup.com.
Prelegent: Aliosha Kachura
Miejsce: MIMUW. Sala 4420
Liczba osób na sali: 23 developerów
Spotkanie było prowadzone w języku angielskim
Slajdy slides.com/alex-kachura/bro/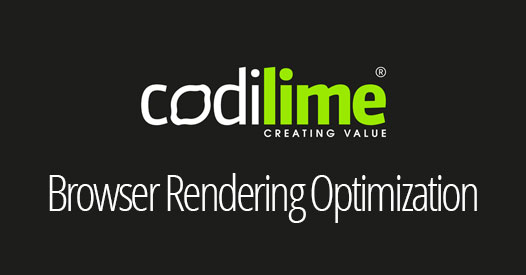 Layout
paint

composite layers

developer does not control them

gpu - put picture on the screen
App Lifecycles - RAIL / LAIR
| | ms |
| --- | --- |
| Response | 100 |
| Animate (scrolling) - each frame of animation) | 16 = 1s/60 frames |
| Idle - nonessential work | 50ms |
| Load | 1000ms |
Typical frame
JavaScript
Style
Layout (geometry)
Effected element painted
Composite together
You cannot optimize before measure it!
Timeline in DevTools - very useful.
JIT example
JavaScript code you wrote, is not the same code that is executed
JIT is optimize code before run
Micro-optimization
... is the last thing is that you optimize
requestAnimationFrame (Support IE10+)
jQuery still uses timeout (for a backwards compatibility reasons)
Web workers (Support IE10+)
main-script.js (HTML5) → workers.js (Worker)
communicate through postMessage function
Limitations of Web Workers
longer initial start and post messages
every worker consumes some amount of memory
no access to DOM, Window
results from workers are copied (without binary data!)
JavaScript
use Web Workers for long-running operations
replace setTimeout/setInterval by requestAnimationFrame
Styles
reduce complexity of selectors
use BEM (block element modifier) methodology
reduce number of elements on which style calculation must be calculated
Layout
flexbox
don't trigger the layout
Paint and Compositing
window.performance - try to study it!

Less layers in Timeline tab in DevTools are better.
On jquery.com has only one layer.

Add "will-change" rules to element which are use any transformation.
Podsumowanie
Całe spotkanie było poświęcone optymalizacji - jest to interesujący zabieg zrealizowany przez organizatorów. Takie tematyczne spotkania mają to do siebie, że wszelkie pytanie i wątpliwości dotyczą tylko jednego tematu.
Temat optymalizacji stron internetowych w dzisiejszych czasach jest tematem dosyć popularnym. Początkujący developerzy nie zwracają na to uwagi, ale w miarę rozwoju zaczynają rozumieć, istotną kwestię optymalizacji.
Po spotkaniu najaktywniejsi dostali upominki od CodiLime - sponsora dzisiejszego spotkania.